JBL Synthesis SDP-55 and SDR-35 Are Roon Ready
April 6, 2021
(NORTHRIDGE, Calif.) April 5, 2021 — JBL Synthesis announces Roon Ready and Roon Tested status for its SDP-55 AV processor and the SDR-35 Class G AV receiver. Roon Ready exclusively applies to network devices that have Roon's streaming technology built-in and means that these devices transparently discover and connect to Roon without any configuration to deliver bit-perfect audio. The JBL Synthesis pair has been certified by Roon Labs, working with the JBL Synthesis engineering teams, to provide the highest level of quality and performance in network streaming. To certify as a Roon Tested device, a product must also work over USB, HDMI, AirPlay, Google Cast, and other protocols.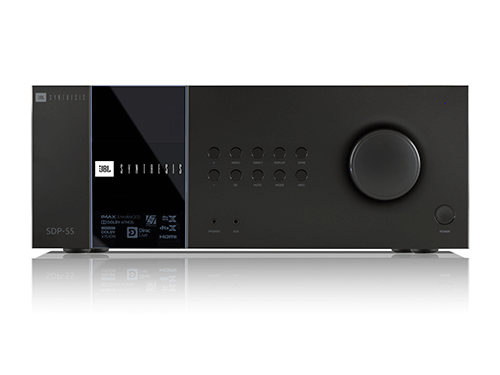 This JBL Synthesis duo already offers quite extraordinary levels of performance and feature listings. Both models embrace 16 channels of native processing, Dolby ATMOS, DTS:X 3D, Auro 3D, IMAX Enhanced, Dirac Live, Logic16, Network Streaming, Dante, with the SDR-35 adding 7 x 100w of Class G amplification. The addition of Roon Ready status opens up the world of Roon to JBL Synthesis SDP-55 and SDR-35 customers, including multi-room flexibility as well as the system's award-winning integrated music library.
To get the best from Roon, users of the JBL Synthesis SDP-55 and SDR-35 should ensure that their machines are running software v1.46.
ABOUT HARMAN
HARMAN (harman.com) designs and engineers connected products and solutions for automakers, consumers, and enterprises worldwide, including connected car systems, audio and visual products, enterprise automation solutions; and services supporting the Internet of Things. With leading brands including AKG®, Harman Kardon®, Infinity®, JBL®, Lexicon®, Mark Levinson® and Revel®, HARMAN is admired by audiophiles, musicians and the entertainment venues where they perform around the world. More than 50 million automobiles on the road today are equipped with HARMAN audio and connected car systems. Our software services power billions of mobile devices and systems that are connected, integrated and secure across all platforms, from work and home to car and mobile. HARMAN has a workforce of approximately 30,000 people across the Americas, Europe, and Asia. In March 2017, HARMAN became a wholly-owned subsidiary of Samsung Electronics Co., Ltd.
ABOUT ROON LABS
Roon transforms the experience of browsing music. Artist photos, credits, bios, reviews, lyrics, tour dates, and composers are located automatically, then interconnected by links to build a surfable, searchable digital magazine about your entire music collection.
Roon also links all of your personal files with the millions of tracks available on TIDAL and Qobuz, so you can start with the music you know, then explore and discover new music from the world beyond your collection. Roon runs on most Mac, Windows, and Linux PCs as a server, with an Android or iOS smartphone/tablet used as a control point.
roonlabs.com
FOR MORE INFORMATION CONTACT:
David Glaubke
Director, Global Corporate Communications
HARMAN Professional Solutions, Luxury Audio Group, Embedded Audio
+1 (818) 895-3464 O
+1 (818) 470-7322 M
david.glaubke@harman.com