JBL Synthesis SDP-75 Press Release
June 29, 2017
HARMAN's JBL Synthesis Advances SDP-75 Home Theater Surround Processor: Optimizes Room with Trinnov Engine and Expands Channel Count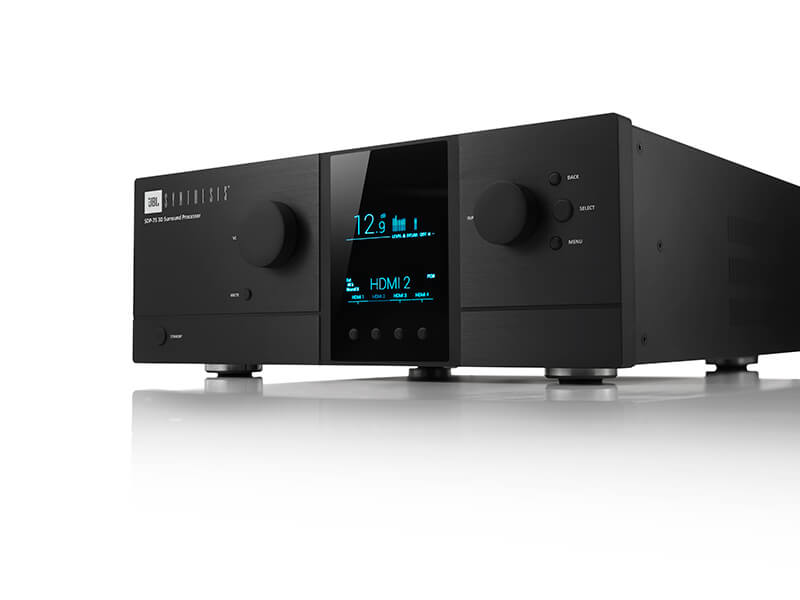 NORTHRIDGE, Calif. — HARMAN's JBL Synthesis today announced several major developments for the JBL SDP-75 Surround Processor, and is introducing a host of new features and capabilities to the SDP-75 platform that will ensure that it remains the ultimate solution for the highest-performance home theaters. Among the new features and capabilities of the JBL SDP-75 Surround Processor platform is the integration of the Trinnov Optimizer engine, along with a newly-developed room correction target curve for improved performance.
In addition, JBL is announcing the future availability of loudspeaker anechoic EQ and a new HDMI board that will pass all commercially-available 4K consumer formats without degradation. Both of those items will be available at no charge to JBL dealers. Further, the company is introducing an upgrade path for existing SDP-75 owners.
Along with these improvements, the company is announcing lower pricing in the Americas on all variants of the SDP-75, including the soon-to-be available 24-channel version.
Trinnov Optimizer-based Room Correction Now Included
The JBL ARCOS room correction system—implemented in JBL SDEC hardware—has long been lauded as a leader in room EQ. By partnering with Trinnov, JBL can now make use of the state of-the-art Trinnov Optimizer, which has been adapted as part of an eco-system for use with JBL Synthesis and Revel loudspeakers in the SDP-75. This advancement provides greater system flexibility through multiple EQ presets and loudspeaker configurations, eliminates unnecessary A-D and D-A converters, and can cost significantly less than systems using external SDEC equalizer hardware, depending on the channel count. The Optimizer engine is now included in all SDP-75 variants as a standard feature.
Trinnov Optimizer Upgrades for Existing SDP-75 Owners
Customers who purchased an SDP-75 with one or more SDEC equalizers may wish to convert to the Optimizer engine. In those instances, JBL is providing the internal Optimizer engine at no charge. Interested customers should contact their JBL Synthesis or Revel dealer for full details.
JBL Synthesis SDA Amplifier Interconnect Cable
Using the internal Optimizer engine will change the connectivity to the amplifiers versus a system that uses outboard SDEC equalizers. A custom 8-channel DB-25 to mini Phoenix interconnect cable is available from JBL Synthesis dealers.
New Room Correction Target Curves
Based on continuing research and blind listening tests, the JBL Synthesis SDP-75 now incorporates a new target curve that provides an improvement in performance--even over the highly-lauded ARCOS target. The sonic result is better subwoofer integration with the main speakers, much-deeper and tighter bass, and significantly smoother high frequencies.
ARCOS with Other Surround Processors
The acclaimed JBL Synthesis ARCOS room correction system, utilized with SDEC equalizers, remains the preferred solution for processors other than the SDP-75. The SDEC has problem-solving features such as preset electronic crossovers for JBL Synthesis speakers, tuning files for JBL Pro M2 and LSR speakers, speaker arraying to provide additional outputs beyond the decoded channel-count, and digital Blu-Link connections to SDA amplifiers for simplified system wiring. Of course, SDEC's can still be used with the SDP-75 processor for those who desire or who want to utilize the Blu-Link digital audio connections to SDA amplifiers.
Channel Expansion Upgrades
Owners of SDP-75s will now be able to expand the channel-count of their processors as system needs change. Examples include upgrading a 16-channel SDP-75 to 24- or 32-channels, or a 24-channel SDP-75 to 32- channels. Additional channels become important when utilizing multiple subwoofers or bi-amping loudspeakers. Adding additional channels within the SDP-75 processor chassis is a more cost-effective way to expand channel count versus using outboard SDEC equalizers.
Anechoic Loudspeaker EQ Selection in Development
Development is in progress that will lead to a drop-down selection of JBL Synthesis and Revel speakers within the SDP-75 interface, which allows the system to provide equalization above the Schroeder, or transition frequency, that cannot be achieved through in-room measurements. This will be provided at no cost to owners, and will deliver sonically superior results versus corrections based solely on in-room measurements. Availability will be announced as the engineering comes closer to completion.
HDMI Video Board Upgrade in Development
A new HDMI video board is in development that will support HDMI 2.0b, HDCP2.2, 6G/600 MHz video with 7 inputs and 2 outputs—all with full resolution, color depth and HDR-10 (including "UHD Premium" content) and DolbyVision® capability. When released, the new HDMI video board will be available to no cost to dealers. Dealer installation is required and should typically take around 20-30 minutes. Installation labor charges are at the dealer's discretion. Availability is expected this summer.
Note that current SDP-75 processors can pass "4K" video via input #1 and output #2, with performance limitations. Those wishing to utilize the full capabilities of UHD at this time can use an audio "break-out box" to provide video directly to a display, while routing audio to the SDP-75, or utilize a video processor with switching capability.
New Lower Americas Pricing
All SDP-75 variants will now ship with the Trinnov Optimizer engine included as well as Dolby Atmos, DTS:X, and Auro3D audio codecs. Audio codecs can be deleted with a resulting credit to the dealer.
ABOUT HARMAN
HARMAN (harman.com) designs and engineers connected products and solutions for automakers, consumers, and enterprises worldwide, including connected car systems, audio and visual products, enterprise automation solutions; and services supporting the Internet of Things. With leading brands including AKG®, Harman Kardon®, Infinity®, JBL®, Lexicon®, Mark Levinson® and Revel®, HARMAN is admired by audiophiles, musicians and the entertainment venues where they perform around the world. More than 50 million automobiles on the road today are equipped with HARMAN audio and connected car systems. Our software services power billions of mobile devices and systems that are connected, integrated and secure across all platforms, from work and home to car and mobile. HARMAN has a workforce of approximately 30,000 people across the Americas, Europe, and Asia. In March 2017, HARMAN became a wholly-owned subsidiary of Samsung Electronics Co., Ltd.
Philip Weiss
Brand Definition
Philip@brand-definition.com
+1 (212) 660-2555 ext 23
© 2017 HARMAN International Industries, Incorporated. All rights reserved. Harman Kardon, Infinity, JBL, Lexicon and Mark Levinson are trademarks of HARMAN International Industries, Incorporated, registered in the United States and/or other countries. AKG is a trademark of AKG Acoustics GmbH, registered in the United States and/or other countries. Features, specifications and appearance are subject to change without notice.
Previous
News
HARMAN DELIVERS AT CEDIA 2017